Tripawds is a user-supported community. Thank you for your support!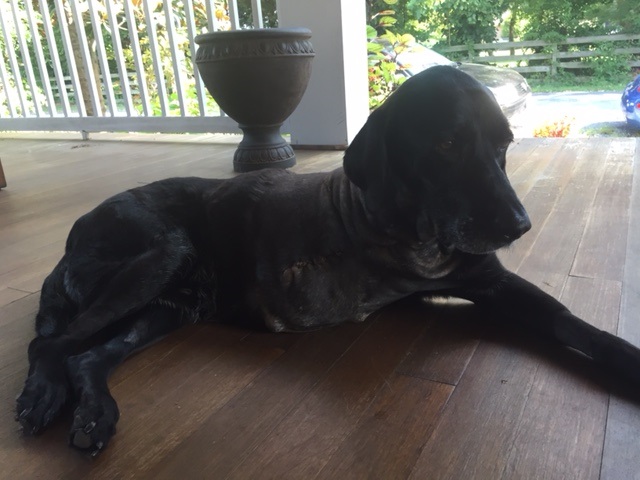 Just an update on Anjing and what we have learned over the past week.  Anjing is doing good, we are taking things one day at a time.  He has been sleeping a lot, we have panting (i don't think it is pain related), he is eating, drinking plenty of water and taking three scheduled outside "breaks" each day  — poopy came around day 5 and has been consistent ever since.  His attitude is good.  Today is "step down" days for the Tramadol 2 pills – 3X per day to 1 pill – 3x per day and tomorrow is supposed to be no Tramadol – though I do have some as a backup if needed.
We have learned a lot over the past week and I thought I would put everything in one post in hopes it helps someone else.  Some of this is basic stuff, but things you may not think of when things happen so fast.
Preparing your house:
Yoga Mats!  One of the techs at the Vet Hostpital suggested this and yes, these have been a godsend for getting around on our hardwood floors.  All of my spares and even my fancy cork yoga mat are lined up to provide a non-slip walking surface for Anjing.
Raised food and water bowls.  Anjing is a taller lab, so bending forward to his food and water bowl was a little difficult.  A 12″ food and water bowl holder for $20 off of Amazon has come in handy.
Old sheets and towels — Anjing's favorite place is on our white slipcovered sofa.  Even though he has several dog beds, he was very happy and relaxed to recover on the sofa.  I removed the back cushions and took a few old towels and covered the bottom, and put a clean sheet on the top.  I had 2 spare sheets and have been changing them each day, keeping his "recovery" area clean and smelling good.
General Stuff:
Get on a schedule.  It helps you and your pet.  Of course there might be some slight variation depending upon how your boy or girl is feeling but on the first day home I found an App for my phone that kept track of all of his meds – that helped keep ahead of the pain and made sure he got everything when he is supposed to.  You can also figure out meals and potty breaks within this schedule too.
Food and water bowl  — I have been able to keep Anjing's food and water bowl in their normal place – I incorporated a trip past it both going outside and coming in.  I used a cardboard box the first couple of days to figure out how much I needed to raise them up.
Pills  —  I have never had issues giving Anjing pills — I have always coated them in peanut butter and he has thought they were treats.  After surgery, he did not want peanut butter  — oh no!  After a slight freakout –  I went through the fridge and found that I had some salmon flavored cream cheese.  This did the trick!  Anjing has gotten lots of salmon flavored "treats" this week.
Food — the first day home Anjing did not want anything to do with his food.  Since we "rescued" him he has been on a steady diet of Sweet Potato and Trout dry kibble.  Another "oh no" moment.  The next morning his poppy made him scrambled eggs and toast, we served it in his bowl and his regular eating spot and he gobbled it up.  Later that day, I boiled some chicken breasts and made a "slurry" to go over a his food.  This he loves and I have been able to slowly transition him back to his dog food.  So far so good on this — only problem is that our cat now wants chicken too.
Stay positive — I have definitely noticed if I am down so is Anjing.  We both enjoy sitting on either our front or back porch.  The weather has been great this week and we have made a point of doing that for at least an hour each day.  During this time I have given him a little massage or brushed him and it helps both of us.
Read and don't be afraid to ask questions.  My discharge instructions from the vet hospital was a bulleted list of 10 items.  All of the resources on Tripawds.com has been super helpful.  Call your vet when you have questions.
I hope that our next 5 days go as smoothly as the past week has.    On Monday Anjing gets his stiches out so that is our next big hurdle.  I am also going to try and get him in the car tomorrow as a test run.  He loves car rides so lets hope that has not changed.  I will post another update in a few days.